Ref:
Date:
Location:
Photographer:
Ref:
Date:
Location:
Photographer:
Valentia Photography Workshops
Highly Acclaimed Photography Tuition – on Valentia Island, Skellig Ring, County Kerry, Ireland

With Award-Winning Professional Photographer, Cameracraft Magazine Associate Editor & Master's Degree in Adult Education teacher Stephen Power

Individual or small group tuition (for friends / colleagues or club members), at a time / day that works for everyone

Spent a very productive day with Stephen today. Very informative, lots of useful tips and the tuition paced perfectly. The weather and locations were ideal for trying out new skills and I certainly feel a lot more confident about settings and composition for my landscape photography. Would highly recommend Stephen if you want to take your photography to the next level. Michelle & Tony, Co. Limerick

I went to Stephen this week for a session on Portraiture. I was incredibly impressed with the lesson and learned an immense amount in the time I spent with him. Stephen is a fantastic teacher and makes the learning easy. Will definitely go back for future lessons and would 100% recommend. Rosie, Killarney, Co. Kerry

I had a brilliant day with Stephen. He is very knowledgeable and was very nice and patient with me. I learned so much that I never could have by reading a manual! He also made a delicious lunch with loads of coffee throughout the day. I would highly recommend his workshops and classes. Great value for money too! Gráinne, Ballybunnion, Co. Kerry.

Stephen Power is one of the best. He is very patient and helpful. Stephen has an amazing grasp of photography and delivers his workshops in an easy and very efficient manner. Con, Co. Kerry

**Scroll Down for Individual Tuition Fees, 2 FREE "PHOTOGRAPHY eBOOK" LINKS & More Client Testimonials**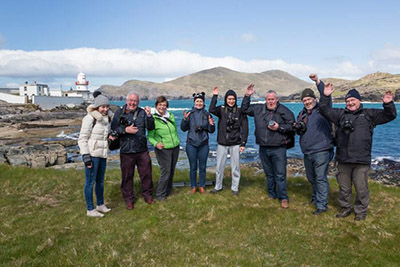 Customized Half-Day, Full Day and accommodation-based Photography Tuition – on Valentia Island, Skellig Ring, Co. Kerry, Ireland
One-to-one and small group workshops with acclaimed photography book author, teacher and commercial photographer Stephen Power - tailor-made to suit your needs and current level of skill.
Tuition is available All-Year 'Round at a time and on a day that suits everyone. Contact Stephen Power now to enquire about availability or make a booking.
Autumn / Winter 2018 - to March 2019 Rates
:
TWO HOURS PHOTOGRAPHY TUITION:
€50.00 per person.
HALF DAY (4 HOURS) PHOTOGRAPHY TUITION:
€90.00 one person
€170.00 two people
€250.00 three people
€300.00 four people
Price includes a free download link for Stephen's 'A short Introduction to Digital photography' eBook
email for larger group fees (up to 6 people)
FULL DAY (8 HOURS) PHOTOGRAPHY TUITION:
€175.00 one person
€320.00 two people
€450.00 three people
€520.00 four people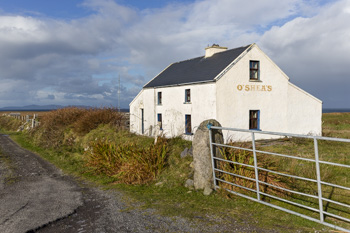 FEES ARE FOR TEACHING ON AND AROUND VALENTIA ISLAND, CO. KERRY. TUITION AT YOUR LOCATION IS AVAILABLE AT ADDITIONAL COSTS.
email for larger group fees (up to 6 people)
Price includes a free download link for Stephen's two photography eBooks: 'A short Introduction to Digital photography' & 'Getting the Most from Your Landscape Photography'
CALL OR EMAIL TO BOOK YOUR TUITION THEN USE PAYPAL LINK TO SECURE YOUR BOOKING WITH 50% DEPOSIT
Telephone: 086-0258166 (+353 860258166)

Email: stephenpower1(at)eircom.net
What You Will Learn
You are only taught what you need to learn, this will be discussed with you in advance...tuition can include the following and much more:
Basic Photography theory and Techniques
: From 'how do hold the camera correctly?' to using the aperture, shutter speed, ISO and white balance settings in your camera.
Advanced Photographic Techniques:
Use of depth of field, differential focusing, fill flash techniques, taking still life/macro images, portraits and travel and landscape photography for stock library use, etc.
Digital Imaging Software:
Using Lightroom or Photoshop to get the best from your images once downloaded from the camera.
Studio Lighting for Portrait Photography:
Learn how to use a simple 2-light set up, for stylish portraits (such as these below) in half a day. More complex set ups can be taught in a full day or longer.
All tuition can include a theory and a practical segment, utilizing the outstanding scenery on Valentia Island and locality. Longer tuition (full day or more) will allow for more time on location for the practical photography experience.
Participants should bring a good digital camera - and laptop (if digital imaging teaching is requested).
2 FREE PHOTOGRAPHY TUITION eBOOKS: "Introduction to Digital Photography & "Landscapes Photography"
Click Here!
Your Photography Tutor
Valentia-based photographer Stephen Power MA, BSc (hons) is an award-winning photographer, author and photography teacher with over 35 years' experience. He holds a Master's Degree in adult education and has taught photography at all skill levels from beginners to experienced professional photographers. He taught for 5 years for the world's largest online diploma course "The Photography Institute". During that time, he authored 4 advanced teaching modules for them on topics including Travel & Landscape photography and Studio and Environmental Portraiture photography.
Stephen won the 2007 NAPP Guru Award for photography and in 2017 he was awarded the US Creative Quarterly Magazine "Certificate of Excellence" and gained an "honourable mention" in the Moscow International Photography Awards. So far, in 2017/18 Stephen has had 3 images exhibited in the world-famous Blank Wall Gallery, in Athens, Greece.
His recent travel photography clients include: Tourism Ireland, Bord Bia, Dorling Kindersley Travel Guide Books, The Irish Times Travel supplement and The Sunday Times Travel magazine.
Stephen is "Associate Editor (Ireland)" for the acclaimed Cameracraft magazine published in the UK, and has written 5 books, including "A Small Window on Kerry" a book of photographs of South Kerry, including Valentia Island.
His most recent book, "Traditional Notes: A Celebration of Irish Music and Musicians" was published by the Liffey Press in Dublin and has received critical acclaim.


My husband and I just returned home after a wonderful day of photographic tuition by Stephen. He is a great teacher explaining things in layman's language and very personable. I would highly recommend him as a tutor for photographic enthusiasts of all levels as he is highly qualified but at the same time has great patience with beginners/amateurs. Catherine & Eddie, Killorglin, Co. Kerry

My friend & I had the privilege of doing a photography course with Stephen Power recently. Learned so much from him ... Only to put it into practice now! Cannot recommend him highly enough!" Mairead, Killarney, Co. Kerry

"Thank you, Stephen, for sharing your beautiful home, hospitality and talent with us. The tuition was excellent. Well-paced, informative, and thorough. Your skill as an artist is matched by your art as a teacher. Thank you again for a delightful stay. We are so happy to have met you and look forward to seeing you again." Christine & Sam, USA.

"Just returned from a Photography Lesson with Stephen Power. Have to say I would highly recommend Stephen. Lesson was at a pace that suited me and the information shared was very useful and I am sure will help improve my photography in the future. If you are looking to improve your landscape, portrait or macro photography, or want to brush up on your Photoshop or Lightroom skills, I can say that Stephen is well qualified to help improve your skills in all these areas. Stephen also has a studio for portrait or macro photography. Looking forward to my next visit already." Liam Good, Portlaoise, Co. Laoise

"I had the pleasure of meeting Stephen yesterday for a 6 hour tuition and have to say It was thoroughly enjoyable and considering the knowledge I took away with me incredibly good value! Stephen was a great teacher, I was having a few issues with my camera ( mainly pilot errors :-) and I now know exactly why that was and how to stop it. He showed me the advantages of shooting in AV... that has totally been a game changer for me! I had also mentioned before my visit that I was really interested in environmental portraiture so he then tailored the day to cater for my request. That was brilliant for me! We had a great time running around Valentia photographing different people! His enthusiasm for the tuition meant time flew and it was never boring or drawn out! I really had a great day and will definitely be down to Valentia again for more tuition.
Thanks a million Stephen!" Lynda Kenny, Cork"


















Personal photography tuition photography courses workshops photo training teaching